A Trellis and Vine Model of Ministry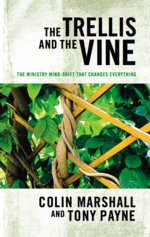 At Gateway Church we are endeavoring to learn and practice a Trellis and Vine model of ministry. The basic concept in this model is that the whole church is to be equipped and  involved in true gospel service to one another and to the world. The New Testament scripture makes it clear that it's not just church leaders but all the saints who are to be ministering the word and the gospel cf. Eph. 4:12.
Marshall and Payne make this statement in their book The Trellis and the Vine: "Structures don't grow ministry anymore than trellises grow vines, and…most churches need to make a conscious shift—away from erecting and maintaining structures, and towards growing people who are disciple-making disciples of Christ." Furthermore, we agree with them when they write "If the real work of God is people work—the prayerful speaking of his word by one person to another—then the jobs are never all taken. The opportunities for Christians to minister personally to others are limitless."
At Gateway we are seeking to invest our lives and our resources in the vine—the growth of people and not the expansion of structures and programs. This means that we're seeking to make a priority of ministering the word of God.  It is his word that convicts, encourages and builds us up. So, as much as we are able, we are investing in equipping and training all the members to speak the word and minister to one another and the world in love.
We don't say that we are succeeding in working out this approach to ministry, but we can say that we are attempting it. Building a vine ministry is slow, challenging, and sometimes discouraging. It does not always have nicely defined edges and borders. Spiritual successes and failures aren't always easily discerned.  The authors of The Trellis and the Vine call such an approach to ministry as potentially "messy and chaotic." These are not negative perspectives but   realistic observations on gospel growth, which is like any organic growth:  it's not something always easily controlled or defined.
But we do believe that the fruit of the vine is good.
(For resources that are helpful in developing  this model of ministry go to "media/resources" on this website.)