About Us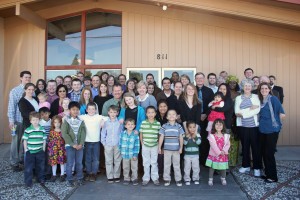 Mission Statement
Gateway Church exists to see God glorified through sinners being saved and saints being discipled.
Our Beliefs
At Gateway, our desire is to grow in the grace, knowledge, and love of God. In order to do so, we strive to be diligent in our searching of the Scriptures in order to ensure that what we proclaim is the truth. It is our conviction that the core beliefs that we hold dear to our hearts and subscribe to as a church are found in the pages of Scripture.
The Authority of Scripture
The Bible is God's authority governing all aspects of our personal and corporate life. We affirm the Bible to be the inspired and inerrant word of the living God, profitable for instruction and reproof. The Bible is God's revealed will to man, and we hold it to be of divine authorship.
Our Statement of Faith
The foundational convictions upon which Gateway is built are the cardinal doctrines of the Christian faith which have been expressed in the historic creeds and confessions of the church through the ages. We believe these doctrines express the central truths revealed in Scripture regarding the Triune God and His works of creation and redemption, especially as they confess the centrality of the person and saving work of Jesus Christ.
More specifically, Gateway has adopted the London Baptist Confession of Faith of 1689 as our statement of faith. While we believe these creeds and confessions are fundamentally scriptural and true, they are nothing more than a sincere effort to summarize scriptural doctrines, and they are in no way looked upon as Scripture or inspired by God. We submit all matters regarding our beliefs and practices to the authority of Scripture. 1689 London Baptist Confession of Faith.
The Doctrines of Grace
As a church, we hold to the biblical doctrines that were more clearly delineated during the Protestant Reformation which are sometimes referred to as the doctrines of grace. Furthermore, we believe that there is one God, eternally existent in three persons: the Father, Son, and Holy Spirit. He is all-powerful and all-knowing. Because He is the author and finisher of our faith, it is our ultimate and overarching purpose to glorify God and enjoy Him forever.